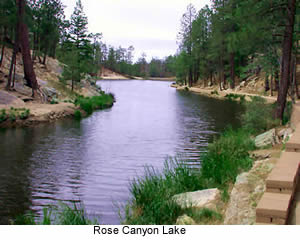 Saturday, April 18th at 9 am 
to Sunday, April 19th at 5 pm
A SPRING CAMPOUT at Rose Canyon near Mt Lemmon!
The campground is reserved for Friday and Saturday nights, so feel free to come Friday if you want to camp with your son for two nights!
This will be different than our Fall campout.  Rather than planned activities and meals provided by the Pack, it will be more of a traditional camping style with families bringing their own provisions and having free time to choose their own activities. But talk with your Den because I know you'll want to be sure to complete as many belt loops and pins as your boys need and want!
It should be a great time with a great group of families!
This will be a really fun time, one the boys will talk about for a while!
This will again be a 'car campout', as the site has a paved drive with parking, tent camping areas, a large picnic shelter with plenty of picnic benches and a barbecue cooking area. There is fresh running drinking water and even flushing toilets. So, everything is pretty much covered for us, just need to show up and have fun!
For those of you that would like to enjoy a night without the entire Pack (bring your own essentials), we also have the site reserved for Friday, April 18th too.
PS - Maybe bring along a fishing pole or a crawdad trap for Rose Canyon Lake; it's only a cool gentle mile along the way.
Here are some directions to the site (allow over 3 hours)
Rose Canyon Campground